If toys smell they are emitting chemicals!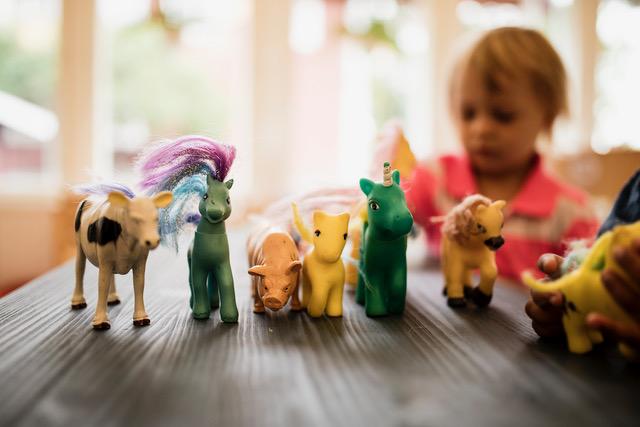 Toys and craft materials come in a lot of colors, shapes and textures. They are often made of plastic, and colors and forms have been achieved by adding, not always healthy, additives. 
Legislation on toys
2007 certain chemicals in toys were regulated by law in the EU. Legislation has grown even stricter as knowledge about the risks due to chemical exposure has increased. Buying CE marked toys produced 2007 or later or, even better, after 2013 is a good start ("Conformité Européenne", not to be confused with the very similar logotype of China Export).
The CE marking is most important when it comes to soft plastic toys. All plastic softer than LEGO contains some kind of plasticizer that may be endocrine disruptive. A rule of thumb is that toys that smell or feel sticky are probably leaking chemicals, and should not be used for play.
Making the right choices 
EU legislation on chemicals is the strictest in the world. Yet it has been criticized by scientists to be toothless. When a substance is banned it is likely to be replaced by a similar one with the same qualities, not yet as thoroughly examined. Substances considered harmless today may by further research be proven harmful. 
So... how do we, as ordinary consumers, know what to choose in the toy store?
The precautionary principle rules. 
Look for ecolabelling. Even plastic comes in different varieties and qualities.
Avoid toys that smell (even new and/or CE marked ones), like foams and plastic clays.
Choose natural materials like wood, cardboard and paper they are often more chemically clever and sustainable choices.
Soft toys should be washed before use. 
Stuff intended for adult use do not follow the same restrictions as toys. 
Electronics, for example, are crammed with heavy metals and chemicals. Definitely a no-no for babies fond of chewing on anything.