Prepaid garbage bags for visitors, Hiiumaa
WHAT?
Orange plastic bags for combustible household waste are sold to visitors to a price including the cost of the waste management.
WHY?
During the tourist season and at big events like festivals and concerts, Hiiumaas population multiplies. So does the amount of waste. It is a temporary but recurrent problem, and the discussion has been going on for ages: Who should pay for the waste produced by visitors? The prepaid garbage bags gives visitors the opportunity to contribute to the recycling system. Everybody pays for their own waste. And hopefully, there will be no more ugly piles of garbage in the forrest, polluting the environment with chemicals and microplastics.
HOW?
The special easy-to-recognize bags of recycled plastic (orange with printed information about how to use them and where to leave them) are produced in Hiiumaa. They are sold in places like food stores, handicraft shops and harbours, and special bins are located in the harbours and other places convenient to the tourists. The system is introduced through many different channels like social media, webpages, apps and the municipality newspaper that goes to every household.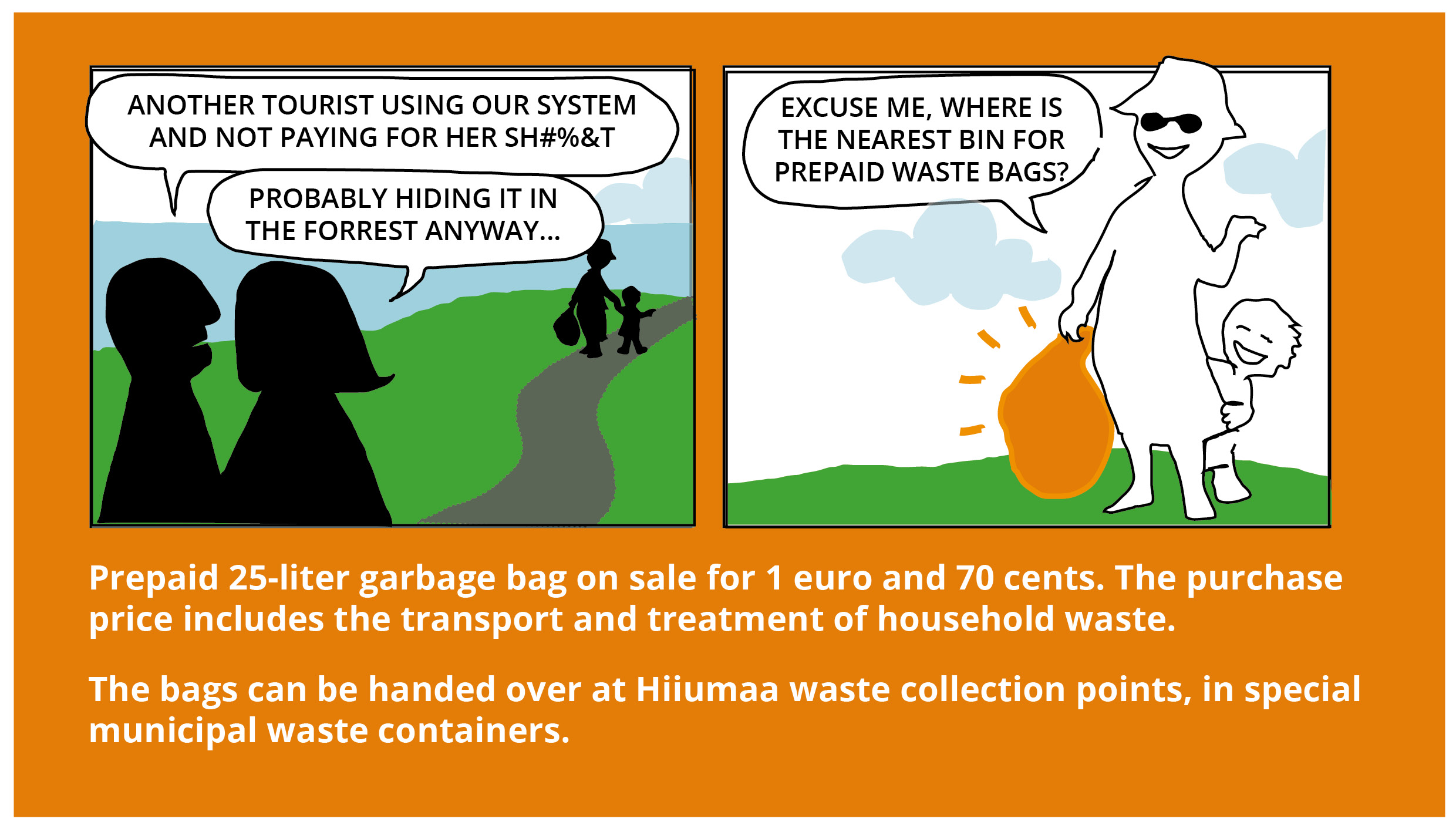 Solving a problem together in a community
In 2020, the Estonian government implemented a new waste management plan according to the EU regulations. The citizens of Hiiumaa have to learn to separate their waste, and the municipality has to be ready to handle it. The focus on waste management and recycling highlighted an old and recurrent problem, common at typical tourist resorts: The need of including visitors in the waste management system and finding a way to pay for it.
When a local tourist entrepreneur married a man from the mainland who wanted to establish a plastic factory in Hiiumaa, they came up with the idea of the prepaid waste bags. The bags went from idea to reality in one year. But they could not realize it on their own. The project requires cooperation between many actors. The municipality has the overall responsibility, writing contracts with the different actors. Hiiumaas five regions (former municipalities) take care of everyday matters, solving practical problems, giving instructions and supervicing. Tourist organisations, food stores and other actors meeting the visitors provide information and sell the waste bags. The harbours, under supervision of the national Est Harbour, are also involved, since the bins need to be located in places convenient for the tourists.
So where does LAG Hiiumaa fit in? "We are not a formal partner in this project", says Reet Kokokvin. "But in a small community like ours an organisation like LAG Hiiumaa is an important part of the society. I have participated in the discussions, supporting the process with contacts, knowledge and experience. This is just one part of the waste treatment plan we have to realize together in Hiiumaa."